What Are The Underlying Causes?
Even though both PE and ED problems often are a result of multiple underlying causes, this is especially the case for guys with ED problems. For example, someone with ED could have the following underlying causes:
•Low testosterone (30%).
•Performance anxiety (40%).
•Lack of physical exercise (10%).
•Excessive masturbation (20%).
We'll walk through the most common psychological factors that cause ED and discuss on how we can combat those causes in this section.
Though there could be numerous causes, it is behind the scope of this post to go through every single potential cause. Still, to give a good idea of the most likely causes of ED I've made an overview so you can see which would be most likely applicable to your case. This will help you improve the situation as fast as possible.
The Most Common Psychological Causes of ED
There are four primary causes of ED that are psychogenic in nature namely:
1). Depression
2). Performance Anxiety
3). Disinterest
4). Mental Stress
We'll talk about each cause as we go along.
1). Depression
It is estimated that roughly 1 in 10 suffer from true depression, a long term illness that has a wide range of symptoms. Serious symptoms include having trouble sleeping, feeling restless, extremely negative self talk, being irritable and a consistently low libido. If you think you are going through a (serious) depression I highly recommend you consult a medical professional. If you are feeling somewhat depressed it might influence your libido which in turn, will affect the quality of your erection. According to a study in 'The Massachusetts Male Aging Group' guys suffering from a depression are 1.8 times more likely to have moderate to full ED (14). Often, it's linked to a form of depression in various forms so don't underestimate this.
Symptoms
If you are consistently not able to get hard and stay hard, it is likely that apart from any physiological causes, you might be experiencing some (subtle) form of depression resulting in weak or nonexistent erections.
Solution
When we are suffering from a depression the biggest problem often is that we don't know how we can get out. Everything seems hopeless. This is why we often need the help of others to get out of the self perpetuating dark cycle which is why asking for the help of a medical profession is important.
However, we all have our ups and downs and feeling a bit 'down' at times is part of life. If this is the case make sure you are working towards achieving your goals so you have a sense of purpose in your life and your mood will inevitably improve resulting in an increased libido as a result. I'd be more specific if I could but the topic of this post. If you listen to yourself you will know what to do to get out though.
2). Performance Anxiety
Suffering from performance anxiety is usually one of the biggest causes of ED. This is especially true for people in their twenties or early thirties. This is because guys who fall in this age category (20-35years) are generally healthy and in decent if not good physical shape thus the source of their ED is often but not always mostly psychogenic in nature. Performance anxiety often results in ED. A big problem in the world of performance anxiety is that it distracts you from the sexual stimuli and the moment itself thus limiting the level of your arousal and the firmness of your erection.
Symptoms
You have no trouble getting hard and staying hard by yourself but you experience semi-hardness on a somewhat regular basis when you're with a partner.
Solution
How do we solve this problem? We learn to relax. This is done by slowly desensitizing ourselves for situations like that (e.g. one night stands by simply getting used to 'new' situations. Another way is doing some meditation. A big solution for some is simply talking with their partner about their 'insecurities' to get new insights and work it out together. Trust is important here. Trust that she respects you.
If you are getting ED with a new girl you have recently met, I recommend you take some Cialis.
3). Disinterest
Not being interested enough sexually speaking to gain a good erection is common. Stimulation in itself does not equal high arousal which means that we can engage in sex but not feel very interested or sexually attracted. If we're not very aroused, obviously, not much is going to happen. There is no ultimate level of sexual interest other than that you want to be able to get and keep a rock hard erection. If this doesn't happen though, things become frustrating which in turn result in you getting distracted lowering your level of arousal (and the obvious) even more. There are too many potential causes of not feeling adequately interested but some common ones are the underlying dynamic between you and the girl, recent happenings in your life or you simply not finding the girl your with sexually attractive. Sorry to break it to you like this, but it really is that simple.
Symptoms
You generally have problems getting hard when you're with your partner but not with staying hard should you get hard enough. This is because once you do hit a good level of arousal you'll gain momentum so to say.
Solution
Disinterest has a physical and a psychological side. In this psychological perspective, solving ED caused by arousal is in general, highly dependent upon the main source. Therefore, it is important you look critically at what could be causing this lowered level of arousal when your with a partner and fix it. It's generally, but not always, an event that happened some while ago that somehow impact you, troubling your thoughts.
4). Mental Stress
Whether it is financial stress, work related stress, bad time management, stressful relationships or something totally different that is causing you stress; they can all influence your sexual performance. ED is an effect that happens frequently when the cause is stress related.
Symptoms
Whereas with arousal problems you will experience trouble getting hard with a partner, if you truly have significant mental stress in your life you'll see it express itself in your ability to get hard. Generally it will be hard to achieve and maintain both with a partner and when you are by yourself.
Solution
Take some time off, relax, meditate, exercise and try to find other ways of relaxing that work for you. Exercising in particular is an amazing way to relief mental stress. Not to mention, exercising releases endorphins and dopamine, two chemicals necessary to experience orgasm, the chemicals are nature's way of giving you biochemical happiness- drug free.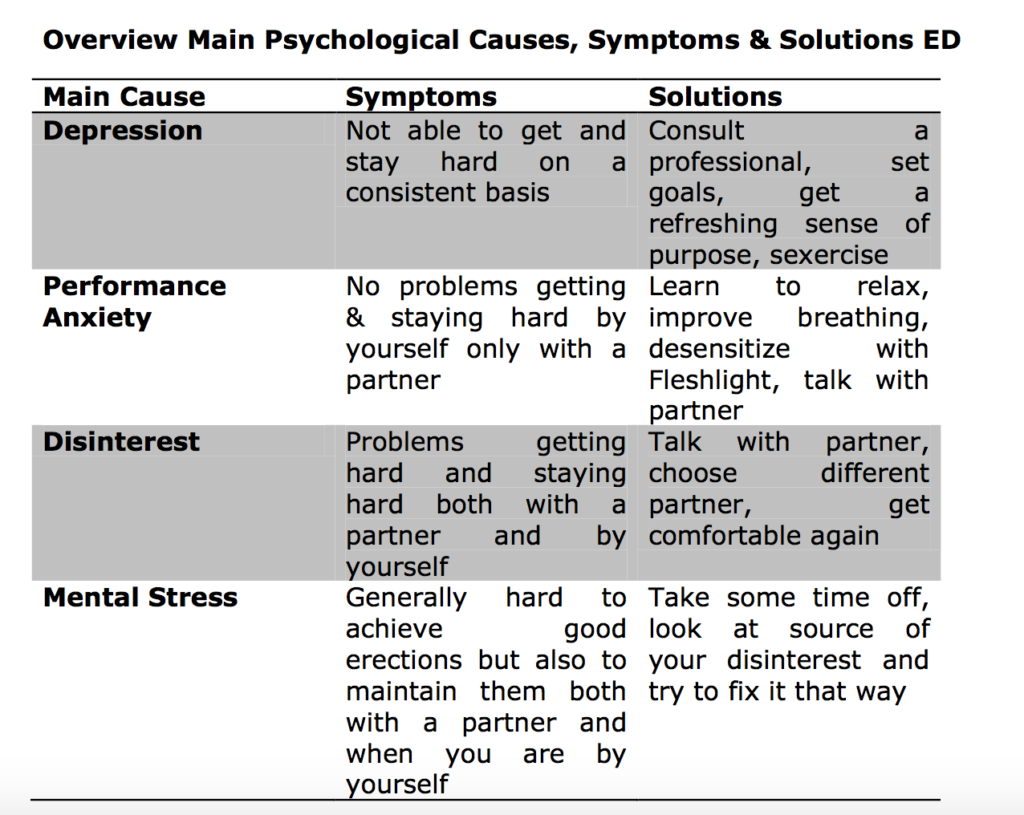 I also recommend you check out the article were we outline the Physiological Causes Of Erectile Dysfunction 
Pour Conclure
• ED usually is the result of a combination of underlying causes, including psychogenic causes.
•The most common psychological causes of ED are depression, performance anxiety, disinterest and mental stress.
•Think about whether any of these causes apply to you and follow the suggestions to solve the root of the psychogenic problem first.
•Erectile dysfunction can definitely be the result of underlying psychological causes but is usually a combination of psychological and physiological (hormonal) causes.

____________________________________________
14 Araujo, A.B., & Durante, R., & Feldman, H.A., & Goldstein, I., & McKinglay, J.B. (1998). The Relationship Between Depressive Symptoms and Male Erectile Dysfunction: Cross- Sectional Results From the Massachusetts Male Aging Study.Psychosomatic Medicine. 60: 458-465