GROW YOUR DICK??? FOR REAL???
Believe it or not, it is actually possible to get a bigger penis! The best device for penis enlargement is the VLC tugger in my opinion. Its fucking comfortable, it's pretty cheap and yeah… It WORKS. Basically, in 4 months I have already grown 1,5 cm in erect length and 2 cm in flaccid length. Pretty nice. People all over the internet talk about similar results, some even gain 1 inch in 6 months and 2 inches in a year.
Check out my penis enlargement before/after pictures here 
Get $4 Discount On Your VLC Tugger With My Discount Coupon "ELI" – http://TLCTugger.com/eli
What to expect, ordering, delivery, FAQ, more video tips: http://elitemanliness.com/vlc-tugger-faq
VIDEO GUIDE / VLC TUGGER REVIEW
In this video I tell you about how I use the VLC tugger for penis enlargement, what it does and why it's better than other stuff. You can also just read the article below.


VLC TUGGER AND SIZEGENETICS IN USE – NSFW
In this video I show you how to use the VLC tugger for Penis Enlargement (with my real face and my real penis yeah)
How to wear the VLC tugger with a strap around the knee
How to use the VLC tugger as a really comfortable modification for the SizeGenetics Penis Extender
THIS VIDEO IS NOT SAFE FOR WORK!
PENIS ENLARGEMENT AND THE VLC: Why, what, how?
This article will contain much of the same information as the videos. Some people prefer videos, some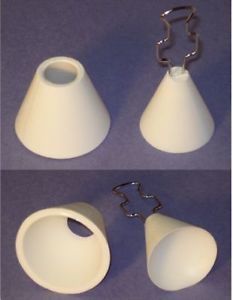 people prefer text, some prefer both. Choose whatever you want.
This is the VLC tugger. It works by creating a vacuum to the glans, and applies tension to the glans/shaft of the penis.
As I mentioned, I have already grown 1,5 cm with the VLC tugger, in just 4 months, so thats pretty cool actually. The cool thing is that its been like no effort at all – its really easy to use and its really comfortable and thats what most important. Another cool thing is that its pretty cheap: around $50. So you dont have to spend a million to gain an inch or two on your third leg. And there is a 3-month no-questions-asked refund policy. But trust me, you won't need that 😉
Anyways, there are two ways you can use the VLC Tugger
You can use it on its own with a strap that pulls the dick down towards your knee.
You can use it as a modification to the SizeGenetics penis extender.
The SizeGenetics Penis Extender

If you already own the SizeGenetics and you are uncut, the VLC Tugger will make a significant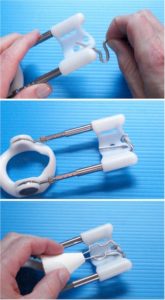 improvement in your comfort level and ultimately – how long you can wear it. The SizeGenetics is expensive so you definitely want to get the most out of it as possible. I really recommend the VLC Tugger as an add-on to the SizeGenetics.
If you are cut/circumcised, then you probably wont be able to use the VLC tugger, and I recommend the SizeGenetics extender alone. The SizeGenetics will be much more comfortable to cut guys than to uncut guys, because cut guys are less sensitive at the area where the SizeGenetics grabs your dick. (note: some circumcised guys actually use the VLC – this is possible if you can push your skin over your glans)
If during the summer you want to wear shorts, I recommend you to attach the VLC to the sizegenetics, since you dont want people to see the strap tied around your knee.
For more information about the SizeGenetics, including video reviews and all that stuff, I highly recommend to checkout my SizeGenetics review here:
http://elitemanliness.com/everything-need-know-sizegenetics-honest-review/
How does penis extenders work?
Real quick: Penis extenders work by pulling your dick a lot of hours every day, and at some point your dick will get longer. The tissue will break down and grow longer, just like working out in the gym.
The VLC tugger works by creating a vacuum at the tip of your glans, and therefore the tension is applied directly through the glans to the shaft (which is called corpus cavernosum in latin, if you care).
Why is the VLC tugger the best penis extender?
It is really easy to make wearing the VLC tugger into a habit because its so amazingly comfortable. I wear it everyday for 8-16 hours (all times except when I sleep, workout or hang out with girls) And with penis extenders, the more you wear them, the better and the more you grow!
IMO the VLC tugger is much better than regular extenders, because it doesn't restrict blood flow AT ALL.
I HAVE used the SizeGenetics alone, but it hurt me a bit and wasn't as comfortable. I think it is because I am uncircumcised, and therefore more sensitive. The reason I found the VLC is actually because I did a google search on "how to make the SizeGenetics Extender more comfortable"… A lot of guys use the VLC as a modification to make the SizeGenetics more comfy, and I decided to try it too, and I have not been disappointed. Using the VLC tugger is MUCH more comfortable, I'm actually beginning to outright LOVE wearing it haha! I even get a little sad sometimes when I have to take it off!
Honestly I only take it on and off a couple of times a day, and almost forget that I'm wearing it. Actually I did some errands on the street like a month ago, and I saw a cute girl, hit on her, and pulled her back to my apartment during the day. We started kissing … and only THEN, I remembered that I was still wearing my VLC tugger!!! So I told her I just had to go to the bathroom, then I hurried out to take it off!! HAHA
Minimal effort needed
Its MUUUCH easier than doing manual exercises… With manual exercises you have to spend 20-30 minutes stretching and jelqing your dick – with the VLC you only spend 15 seconds taking it on and off a few times during the day, and that's IT. You can call it "passive" penis enlargement. Pretty cool!
Also, its very easy to take on and off, and if you use it with the strap, it will be tied to your knee and never fall out of your pant-leg
With a lot of areas in life, I'm a big fan of EFFECTIVENESS. I'm a big fan of getting maximum results with the least amount of effort/time spent. In this regard, penis extenders are perfect, and in my opinion the VLC tugger is absolutely the best!
How much tension to use
In my opinion/what I've done, is to use as much tension as possible, but it still has to be comfortable. If you wear the VLC tugger with the strap around the knee, this will come quite naturally, because if you tie the strap too tight, you wont be able to walk freely! If you wear the VLC tugger with the SizeGenetics, you should apply as much tension as you can wear comfortable for at least a couple of hours.
Don't be stupid like me
Again: Don't pull your dick so hard that it hurts a lot. In January, I tightened the strap so hard that my dick really hurt A LOT, and I should just have decreased the tension, but I thought "no pain no gain" and ignored the pain for a couple of hours. This was stupid. Really stupid. Because when I took the VLC tugger off, I had a small blister on the tip of my glans. It freaked me out, but luckily I just had to take a break from penis enlargement and sex, and then it healed within a week and left no signs. My dick was completely back to normal after one week. This is the only bad thing that has happened using the VLC, and honestly it only happens if you are plain stupid/insane like me, and pull it so hard that it hurts really bad AND KEEP IT ON FOR MANY HOURS WHILE IT HURTS. I can usually take a lot of pain (because of my martial arts training) so I must definitely have pulled it insanely hard. It was my own fault. Obviously you should listen to your body and your dick. You might feel a little stretch in your dick, but if something feels outright painful – stop it.
Pissing
Tip: If you wear the VLC tugger for many hours on high tension, the tip of the glans might be slightly swollen when you take it off. This will go away in 1-2 minutes, and even faster if you just do some slight jelqing. So you shouldn't worry about it. But if you try to take a piss immediately after you take the VLC tugger off, the swollen tip will probably cause you to piss in 10 different directions like a sprinkler. So how do you avoid getting pee all over your pants and your toilet? Either jelq(get blood flowing) for 1-2 minutes before you piss, or just sit down at the toilet and piss (like women)
Foreskin growth
Some people are afraid that their foreskin will grow when using the VLC tugger. That concern is understandable, since the VLC pulls on the glans and the foreskin at the same time. But honestly, during the 6 months I have used the VLC tugger, my flaccid length has increased 2,2 cm, my erect length has increased 1,5 cm and my foreskin has only grown a few millimeters more. So my foreskin might be 2 mm longer now, but who cares about 2mm of extra foreskin when you get 1,5 cm of erect length in return?
How does it look like through pants?
You can wear the VLC tugger/SizeGenetics extender very discretely. I've been wearing it to work, at nightclubs, at social gatherings and family events. I've even taken a 20-minute run with it on!! I've never been busted wearing it, so dont worry about that (just dont wear leggins or super slim jeans). Check out the videos on this post, if you want to see how it looks when you wear it under pants.
Get $4 Discount On Your VLC Tugger With My Discount Coupon "ELI" – http://TLCTugger.com/eli/
What to expect, ordering, delivery, FAQ, more video tips: http://elitemanliness.com/vlc-tugger-faq
Any extender that is compatible with the VLC tugger will work as well as the Size Genetics, if the SG is too expensive for you, we recommend the Pro Extender, which you can get here