Top Recommended Tools for Guys with PE
1). Fleshlight.
3). Suifan Kwang Tze.
*I have already discussed the benefits of a cockring so I wont cover this again in this post
1). Fleshlight
Im a big fan of the Fleshlight. It's an amazing tool to alleviate some anxiety or stress and can really help you not only improve EQ but also last much longer.
In fact, I credit a big part of my ability to last longer to this tool. The sensations produced by a Fleshlight can be quite intense and life-like. There are a wide-variety of types and 'internal' patterns available but I recommend the Stamina Training Unit that provides the most intense sensations.You can buy it here.
If you have trouble lasting longer and don't want to use your girl as 'practice material' I cannot recommend them highly enough.
2). Suifan Kwang Tze
It is said that this exotic ointment was used in ancient Japan and China, developed specifically for members of the Royal Family who supposedly had an abundance of women and wanted to enjoy every minute of it. Whether this is actually true or just clever marketing, it is by far one of the best things you can buy if you suffer from premature ejaculation. A tiny drop of Suifan Kwang Tze literally turns any one- minute man into a sex machine and this is no exaggeration.
The exotic mix of ingredients (water, cinnamon, ginseng and some other ingredients whose official Latin names I shall spare you) essentially causes a very light numbness of the glans (the penis head). This sounds worse than it is, trust me.
When you read up on it online you'll quickly find ranting reviews of guys who tried it, claiming that they didn't feel anything and that it felt as if their penis was on fire. Don't let that scare you off. The ointment is harmless and with proper use, you shouldn't experience any burning sensation or any significant absence of sensations during your sex-a- thons.
So how does it work? Basically what you do is you apply a tiny drop of the lotion via a small wooden brush (that comes with the real Kwang Tze) on your frenulum. By the way, note that you only use this externally. It's for your skin- it's an ointment.
How You Should Apply Suifan Kwang Tze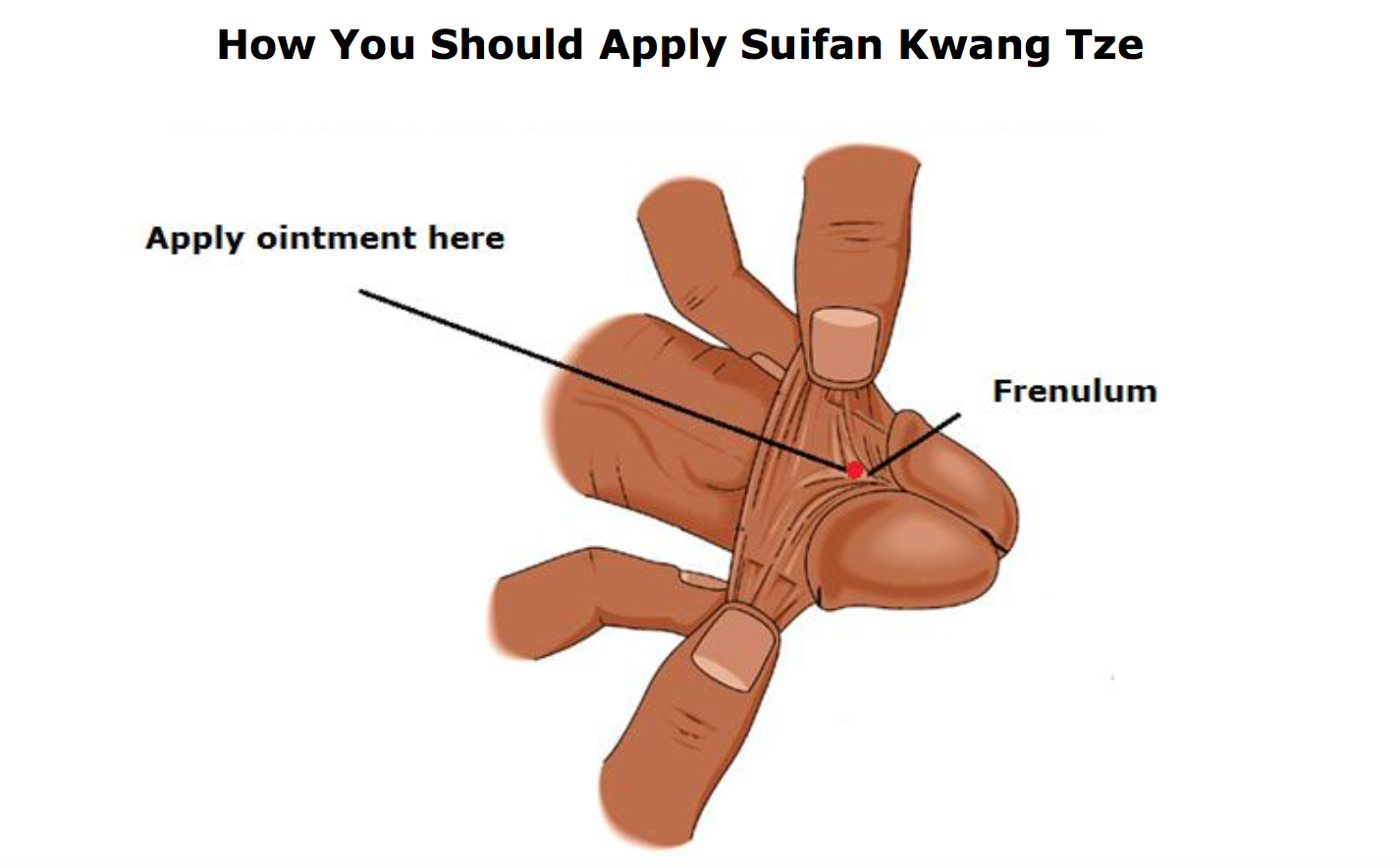 You often read that it should be applied on the head (glans) of the penis but I disagree with this. The frenulum is one of the most sensitive parts of skin on a man's body and it is often the friction caused here during sex that leads to ejaculation in the end. Therefore I recommend you apply it on the frenulum and not on the head.
I can't say this enough: you really only need a tiny drop. The reason guys feel an intense burning sensation is because they've simply applied too much causing skin irritation and heavy burning sensations. Be wise, try it out before you actually use it with a partner so you know exactly what it will feel like and how much you need to use. If applied properly you should feel the area getting a bit warm but not in a painful manner.
Suifan should be applied 20 to 30 minutes before intercourse. After that you first need to wash if 'off' otherwise it might cause a burning sensation in the precious little vagina of your partner (and supposedly it tastes horrible) so do yourself and your partner a favor and wash your unit before taking it to the battlefield.
Important: There are an incredibly high number of fake Suifan ointments out there. Bad Suifan does nothing except causing intense skin rash. Get the good stuff here.
I also recommend the Bathmate Control, I notice I last a lot longer with it, without experiencing any major numbness.
You can check out my Bathmate Control review in the following vid: